vietnam, you made me sick.... literally
Vietnam, Vietnam, Vietnam
You were wonderful, cold, sick, nice, rude at times, and beautiful.

After our amazing Hanoi experience, we filled the past 2 weeks (average estimate) with Hue (pronounced way), Da Nang, Hoi An, Da Lat, Mui Ne, and Saigon otherwise known as Ho Chi Minh City. 1 word to describe my time in most of these places - sick. Yep, I got sick and not only 1x but 2 different occasions. All I can say is I'm thankful for Ritz cheese sandwich crackers.

BUT Vietnam meant more to me than being sick and eating those delicious crackers.

This place taught me so much about history, Vietnamese life, and patience. Unlike the other places I've been, a good chunk of these places are less touristy... basically meaning there is are limited English speakers and limited English signs. That's the beauty of being away from your country and comfort zone, right? So 3 things I learned after being in here for such a short amount of time - my patience grew when I was misunderstood, my vocabulary was challenged and caused me to think of alternative ways to explain myself or explain a word, and my hearing or lack of hearing has gotten worse. Some accents I can understand, others I look like a deer in headlights trying to figure out what someone said.

SO

As much as I want to write pages of pages about my experiences in this beautiful country, I need to have something to share whenever I come back. So here's my high level overview of each place that was lucky enough to have a piece of mirwin in them!
Hue - Sorry for the lack of photos but keeping my phone dry was more important. It was rainy and cold. Most of the sightseeing here is outside so what did we do? We trekked in the rain to the Citadel. Tasted some of the best pho and spring rolls on this trip at Lac Thanh. Again, when it's raining we usually sit at home, watch movies and order take out. In Vietnam... we had a tour de coffee around town. Going to any place that caught our eye to enjoy some joe or tea. I will say we had our first funny experience when every single server in 1 coffee shop came to our table to try to understand us and us understand them. Oh and also every Vietnamese customer looking at 2 white girls too. Insert awkward turtle here 🐢. We enjoyed the countless happy hours alongside our hostel mates. Just a note though - some hostel which I won't say gave every single person in my clique food poisoning. And this is where my sickness began.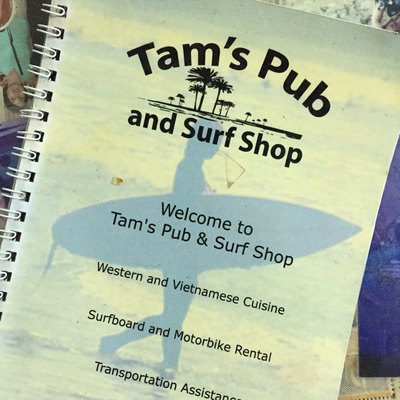 Da Nang - If it wasn't still raining and chilly, we would have motorbiked from Hue to here. Sadly that didn't happen and even more sad I spent the majority of my time here in my bed. I was lucky enough to really make it out our last day where we experienced 2 more amazing meals (that didn't make me sick!). One of which was Tam's Pub. When we first pulled up to this small hole in the wall, I did not know what to expect. A part of me wanted to go someone else and we almost did until Tam came out and said hi. For the next 3-4 hours, this experience became a highlight on my trip. This lady - Tam - is known for her burgers which are 👌🏻 but it's not why people come to her shop for. Here's the kicker - she was a translator at 14 yrs old for the American soldiers during the war. The stories we heard were absolutely incredible. This was better than any museum I have walked in during this trip.
Hoi An - The most touristy place I visited in Vietnam but it's a must on anyone's list. There's lanterns all over the town, people biking from one end to the next, custom tailors for days and days. At night, the lanterns light up the town and create this magical place that's filled with happiness. Families are floating down the river and then lighting candles to float alongside the river with them. The local beer is tasty! Hoi An is known for the dish "white rose" which is basically just a dumpling but shaped in an awkward not rose like shape. I fell in love with a maxi dress and had it custom fit for me as well as a pair of high heeled booties. My bootie obsession is stronger than ever. Could have stayed here 1 night longer.
Da Lat - another place that deserves its own post
Mui Ne - Never did I think I would be camping in a tent on the beach. But let me tell you, it was just what I wanted. I woke up every morning to watch the sunrise then followed by a nap in a hammock. We stayed about 20 mins away from town which I couldn't have asked for anything better. We chilled by the beach, drank and made new friends, and I indulged myself in some Netflix when I wasn't feeling like playing trivia. The one day in town, we treated ourselves to the best fucking meal - fresh oysters and fresh crab. Next time you have oysters, use wasabi instead of horseradish sauce and thank me later.
Saigon - This is another one of those places where I was sick the majority of the stay. However, I was determined to make the most of my time spent in Ho Chi Minh City even if I was throwing up every meal I ate. Bikini wax ✔️ Cu Chi Tunnels ✔️ Ritz crackers ✔️ Chill Sky Bar ✔️✔️ Shopping ✔️ Hideout Hostel ✔️. I would have loved to stay to explore this city more even if I had to be sick a few more days.